Quality Guaranteed! Thai Coffee Boncafé wins 3 Superior Taste Awards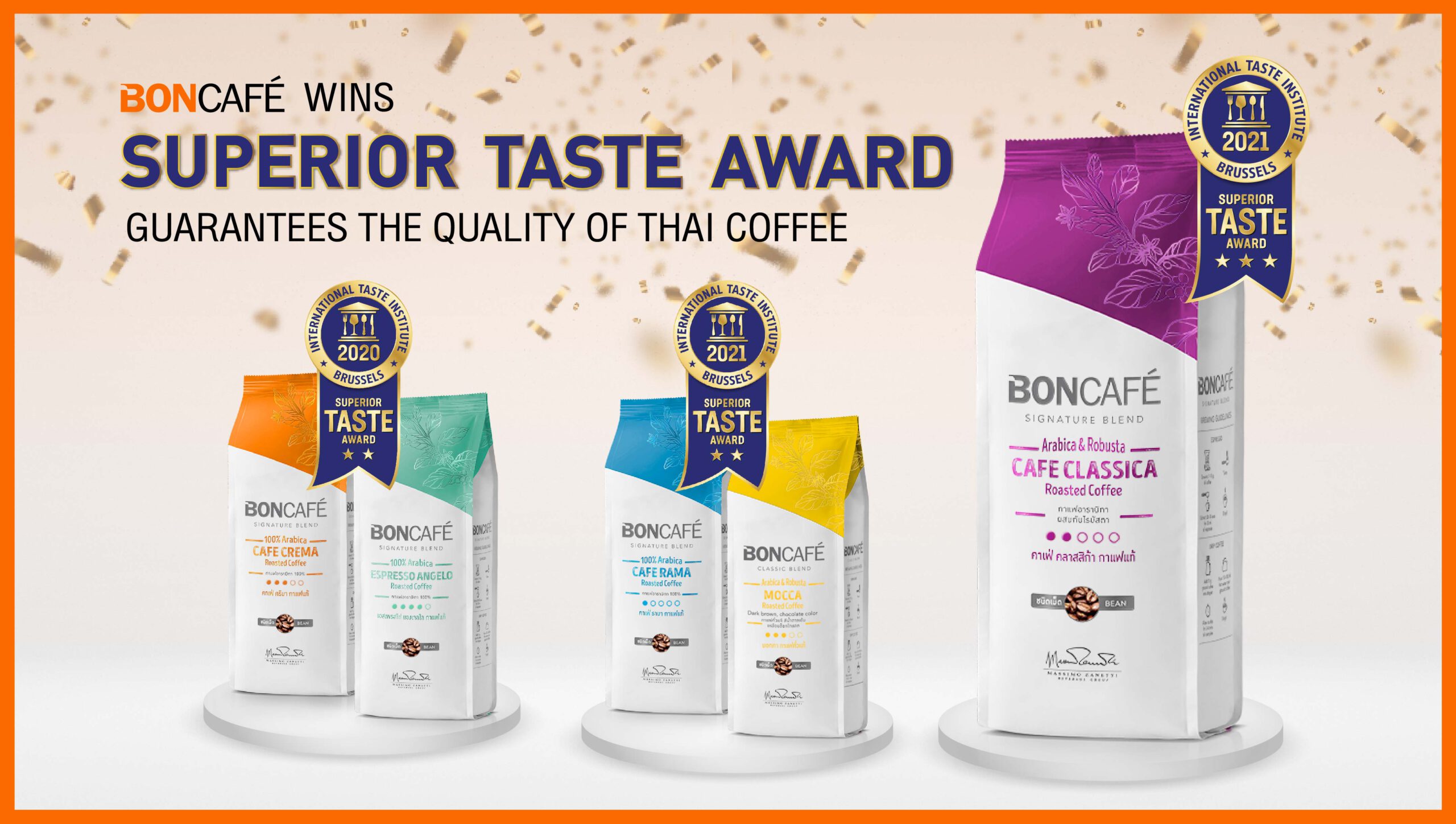 Boncafé (Thailand) the leading full-service coffee business veteran with more than 30 years' experience in the industry has been continuously developing quality products with international standard to serve our clients and has recently received upto 3 awards from the Superior Taste Award 2021 by the International Taste Institute; Awarded products are grouped into the signature blends and classic blends.
BONCAFÉ SIGNATURE BLEND "CAFE CLASSICA" Premium blend between Arabica and Robusta coffee beans. Mildly roast with smooth tastes. Scored upto 90.1%. Awarded with 3 Stars.
BONCAFÉ SIGNATURE BLEND "CAFE RAMA" 100% arabica coffee beans from high mountains. Mildly roast with fragrant aroma. Scored upto 86.5%. Awarded with 2 Stars.
BONCAFÉ CLASSIC BLEND "MOCCA" Blended between arabica and robusta coffee beans. Medium roast with chocolate aroma. Scored upto 83.5%. Awarded with 2 Stars.
All these are the 3 auspicious awards bestowed to Boncafé within the year 2021. Factory manager Kingkarn Rattanapornprasert, heart of the productions and coffee roasting said "I am very happy and honored that our products won the Superior Taste Awards. I'm also proud about our coffee that everyone has put their hands into developing the formula, devoting and punctiliously picking the raw coffee beans, up until controlling the manufacturing process. We have always put our hearts in checking the Boncafé product quality in each and every step to maintain our standards regularly".
About this success, Boncafé CEO Usapun Inteevoravong said "after Boncafé was guaranteed with the 2 stars award in 2020, we have been determined to increase the quality controls of 3 more Thai coffee blends in 2021 and it is a pleasure that the 3 submitted blends have received the mentioned awards; resulting in the total of 4 signature blends within the group that has all been guaranteed with quality and taste awards. This year's test has put more confidence in our coffee quality and proves that we can be well recognized in the international standards for sure."
 Not only just determined to improve our products, Boncafé has also foreseen and added our reach to the consumers by increasing our online distribution channels such as, Boncafé Online Shop, Lazada, Shopee, and JD Central. Customers are able to purchase Boncafé products anywhere and anytime, while we work hard to maintain our product quality and services to satisfy every group of customers in return for your support beside Boncafé for 30 years.