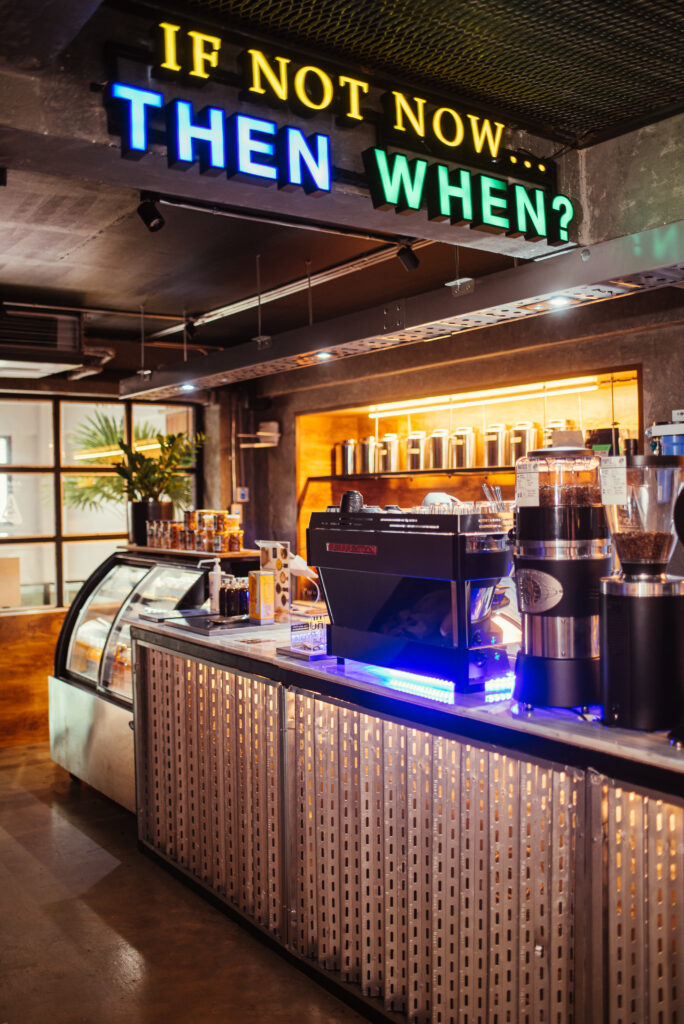 Visiting this fantastical café, don't miss out on their signature cup, the Black Orange, which features black coffee with freshly squeezed tangerine juice. Pair this with homemade desserts, perhaps a slice of Thai tea cake or coconut cake, for a perfect afternoon. Those who happen to be around the Petchkasem, Bang Khae, should not miss out. Oh, and did we mention? Agartha serves a wicked smooth nitro cold brew coffee as well!
Opening new doors to the world of coffee.
Testing and tasting out different coffee at cafés is one of the fun things about café hopping, with each cup and each café reflecting the style of the owners. Amongst the many cafés hidden in Bangkok, Agartha Coffee & Co. takes its refuge on the second floor of Mae Ya Jai kanomjeen (Thai rice vermicelli) restaurant on Phetkasem road. The name Agartha also refers to the legend of a hidden kingdom at the core of the earth.
Owner expresses his penchant and experience from living abroad through the design of the café. Designed to portray a hidden world, visitors will be greeted with a cosy atmosphere and welcoming staff. The furniture is designed by Max and made by craftsmen to form a perfect coffee bar. On top of that, the Boncafé team helped to provide a finishing touch by assisting Max with his coffee machine and grinder.