Enjoy a heartfelt service at U Nimman Chiang Mai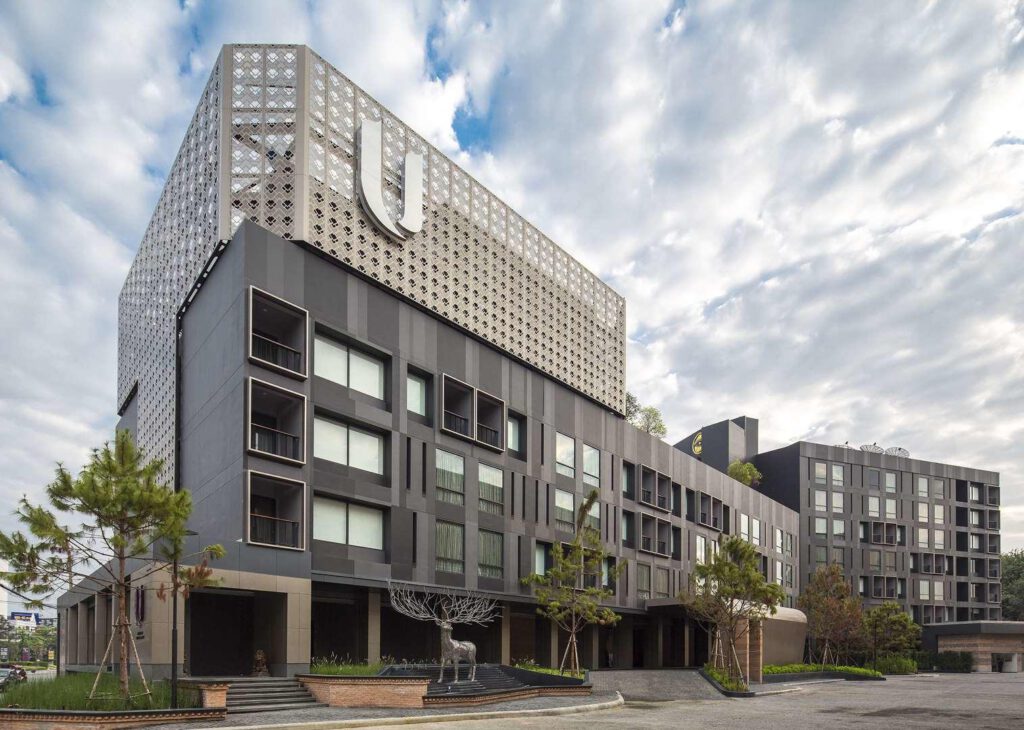 Chiang Mai—a mountainside town that never fails to capture our hearts. Amongst the many districts in Chiang Mai, the Nimmanahaeminda, or the Nimmanhaeminda Road, features many beautiful, hip stores that makes it a key destination for many visitors. Those looking for a stay, U Nimman Chiang Mai offers a contemporary fusion between Lanna and modern interior situated in the heart of Nimman.
With over 147 rooms, the hotel offers single and double beds, as well as two suites to cater to your every need. A special feature that would please many visitors, guests of the hotel can enjoy the room for 24 hours. Instead of the usual check-out before noon, guests can opt to check-out at the same hours of their check-in time. Not only that, the rooms come equipped with a Capristta capsule machine for guests to privately enjoy freshly brewed coffee in the premise of their room. As for breakfast, guests can also opt for breakfast at any time of the day, anywhere in the hotel—whether you wish to have breakfast in your room, by the pool, or even in the garden, your breakfast will be served steaming hot up until 10:00 pm. 
Those who wish to relax at the pool bar will be able to lounge at the hotel's rooftop pool bar as they watch the sunset between the mountain range, while those who enjoy working out will be happy with the hotel's fully-equipped fitness area, which also offers yoga and aerobics classes. If you are looking to surprise your loved ones or treating yourself with a special time, take time to select your tea and soap scent, and even customise your playlist by filling in your preferences when you make your reservations online or during check-ins.
     When it comes to food, U Nimman Chiang Mai gives it their all with Thai and authentic Northern Thai cuisine. The hotel's dining room is open from 6.30 a.m. – 11 p.m., though those who still want to enjoy a few drinks after the restaurant's opening hours can move on to the hotel bar at the lobby lounge. Afternoon tea fans should not miss the Thai dessert afternoon tea served in a retro 'pinto', or Thai-style stacked tiffin box. Priced at 199 baht, guests may choose between tea or coffee for two, or opt for the High Tea set, which comes in a range of sizes priced between 199 – 399 baht. The highlight, the Last Edition set, features a delicious and insta-worthy combination of scrumptious local and Western desserts.
Falling in love with the selection of sweet treats and coffee offered at the hotel, we were pleased to have a chance to talk to Anne—Jiranan Intata, restaurant manager of the hotel's EAT @ RINCOME dining room. Explaining how she prefers the premium quality of Boncafé, Anne explains. "I think the taste of Thai coffee is as good as coffee from other countries. The flavours are consistent and up to standard, not to mention the after-purchase service from both the sales and the technicians. Because we use our automatic machines quite a lot, it's really handy that we can easily contact the technicians should an error occur. Our customers also often ask what kind of coffee we use here and where can they get them, and I would recommend them the Boncafé espresso because they're easy to find and have a good range of roasting strength."