OEM private label service
Boncafe (Thailand) offers advice and services to entrepreneurs who seek OEM roasted and ground coffee. Not only does Boncafe aim to assist businesses in running smoothly and more efficiently, it helps lower investment risks by offering decreasing your initial investment. We vow to walk beside you and to grow with you no matter what stage or size your business has yet achieved. 
Why choose Boncafe's OEM services?
1. We are a leading company for roasted and ground coffee with 29-years of experience and a team of experts who oversee all production details.
2. Our roasting machinery is of high quality and on a large-scale, ensuring sufficient inventory.
3. Our products are clean, safe and consistently affordable.
4. All goods are verified by our quality control team before delivery to customers.
5. Not only is our manufacturing standard GMP, HACCP and Halal certified, but also Green Industry-certified by Thailand's Industry Ministry.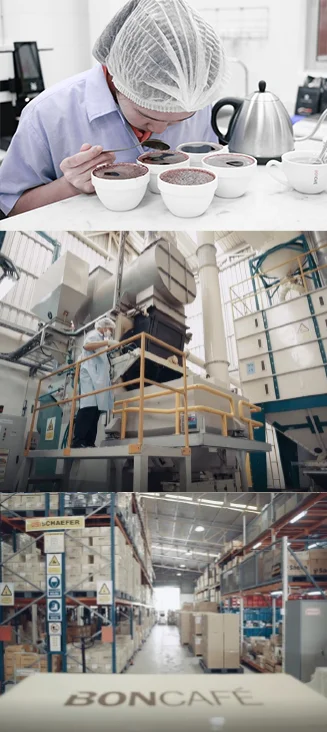 Please fill in the form and press CONFIRM. After the confirmation screen, press SUBMIT to send us your inquiry. * questions are required.