Securing the International Thai Coffee Quality, Boncafe acquires the Third Consecutive Superior Taste Award 2022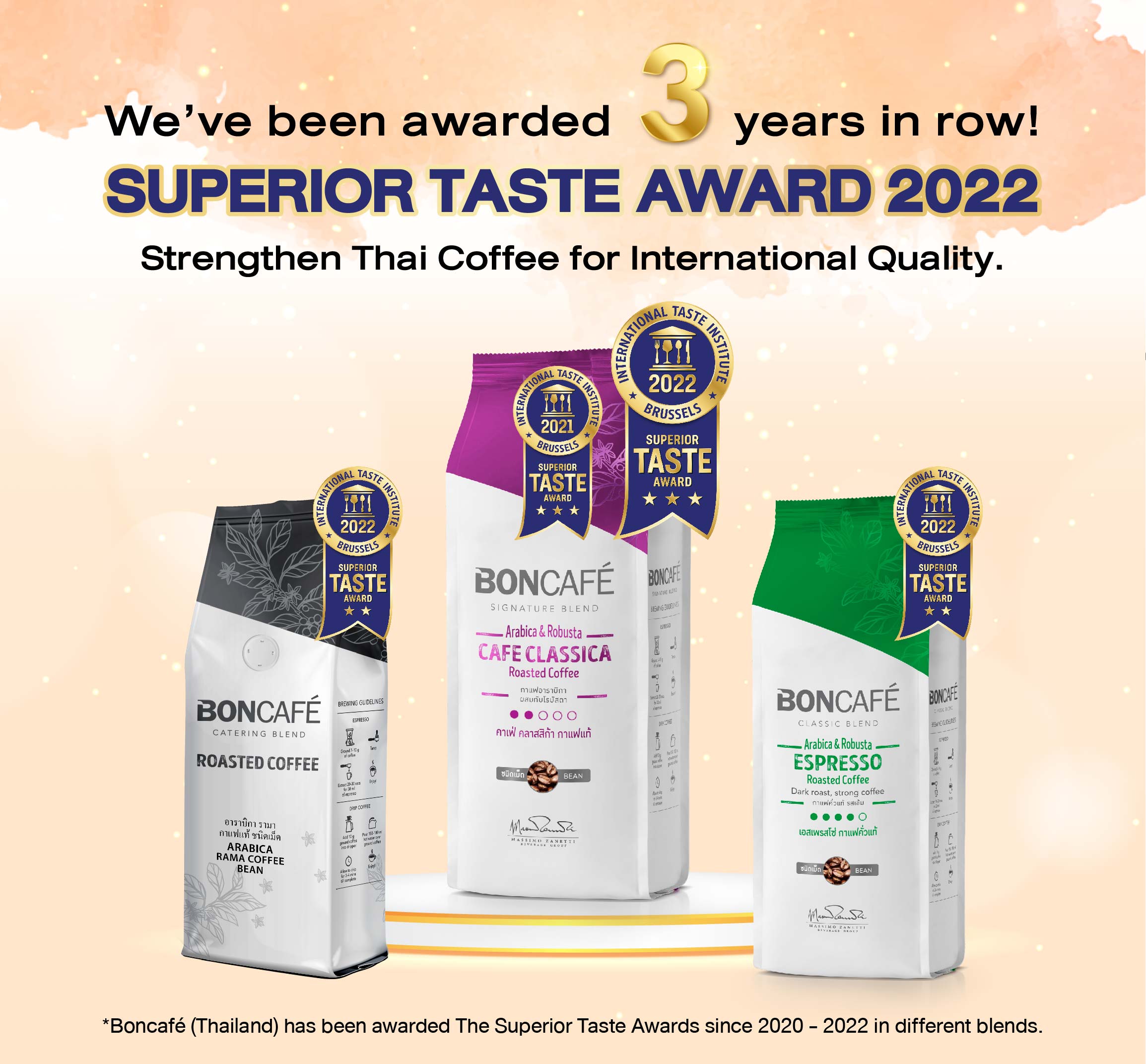 Boncafe (Thailand) Co., Ltd. as the topnotch firm leading as the one stop coffee service with over 30 years of experience in the industry has been non stop improving and creating high quality coffee products to serve the customers with international standards whilst achieving the Superior Taste Awards 2022 for the 3rd consecutive year. In this year, Boncafe has won 3 awards with 3 coffee products including the signature blend, classic blend, and the catering blend:
Cafe Classica Coffee Blend premium coffee beans mixed between medium roasted arabica and robusta beans providing light delicate tastes with the high score of 90.1% and the 3 stars award; guaranteed with the 2nd consecutive year prize since 2021.
Espresso Coffee Blend the mixture between strongly roasted premium arabica and robusta coffee beans with the authentic espresso fragrance; scoring up to 84.3% with 2 stars award.
Arabica Rama Coffee Blend the authentic light roasted arabica coffee bean with perfect rich and smooth tastes scoring upto 85.8% with the 2 stars award.
These are the auspicious awards that have been bestowed to Boncafe for continuous years during 2020 – 2022. Factory manager Khun Kingkarn Rattanapornprasert whose been directly in-charged with the coffee bean productions said, "to maintain the product quality, the coffee roasting crew has been delicately focused on each and every procedures since selecting the coffee beans until controlling the production process to reciprocate the Boncafe customers that have been supporting us for more than 30 years."
Boncafe CEO Khun Usapun Inteevorawong added on this success saying, "as Boncafe achieved consecutive success with the Superior Taste Awards since 2020, we are delighted that this year's submitted Cafe Classica coffee beans have been able to maintain the quality tastes and have brought us back the 3 stars award for the 2nd consecutive year. This year's product tryout has given us more confidence that our coffee is high quality and is truly recognizable within the international levels.
Moreover, Boncafe will continue to maintain its product quality and services to satisfy the needs of all target audiences, providing online distribution sites such as, Boncafe Online Shop, Lazada, Shoppe, and JD Central. Customers are able to select and shop Boncafe products from anywhere and anytime which is how Boncafe wants to repay all of our loyal customers who have been supporting Boncafe throughout these 30 years and along with the next upcoming years.